Small business owners usually struggle with how to manage time. How do you separate personal from business? With so many things competing for your time, how do you know what to do first?
We know, and empathize, that you have to wear many hats. It may seem like you are alone and surrounded by chaos most of the time. How can you work ON your business while working IN your business? You've just made a sale (great!), and taken a customer deposit (even better!), but who will now monitor your sales pipeline while you fill the order?
All time management begins with planning

Tom Greening
Manage Time for Your Priorities
Just Index Cards was created with a proven, "priority first", approach to time management in mind. Your virtual index cards are sorted by level of impact. When creating a virtual index card, you have control over its fields: Customer, Project, Card Type, Priority, Status, Color, User, Due Date, and Show Date. You can also Archive and Dog Ear your virtual index cards. Once created, your virtual index cards are sorted in the order most useful to you, helping to keep you focused.
With Just Index Cards, you can quickly record customer interactions, project to-dos, sales leads, inspiration, future goals – just about anything! Do you have staff? Share virtual index cards with unlimited users, at no additional cost. Users can also create cards for you or for themselves.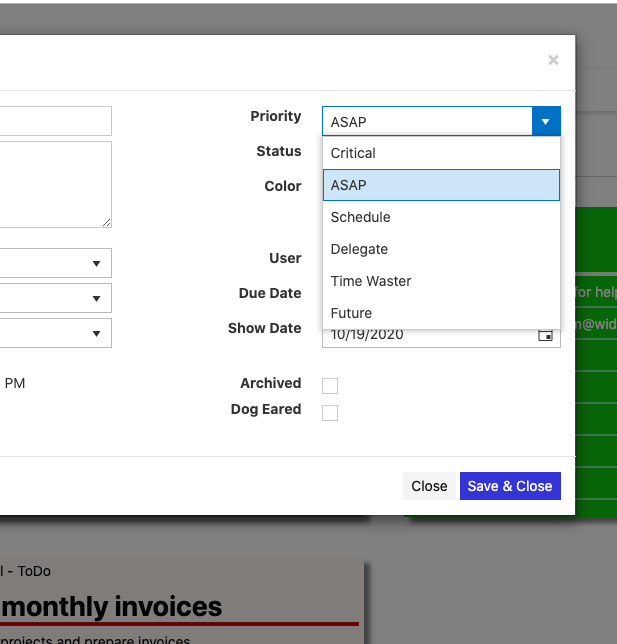 The bad news is time flies, the good news is you're the pilot.

Michael Altshuler
Manage Time using the Eisenhower Box
Just Index Cards embraces an "Eisenhower Box" approach to Time Management also made popular by Steven Covey's The 7 Habits of Highly Effective People. The general idea is to place cards into quadrants, I – IV: Urgent-Important, Not Urgent-Important, Urgent-Not Important, Not Urgent-Not Important. Then you attack your work in the order of most impact. Plan your day by organizing your virtual index cards into one of the four quadrants, ranked by the importance of the tasks. You can reschedule your important cards that are not urgent for another time, if your day is full. A few examples of these types of tasks are: reading a business book and making cold calls. You can also use Just Index Cards for personal tasks such as date night and exercise.
You may find that some tasks are not as important or urgent as you once thought. Ideally, eliminate, delegate, or change the priority on the card. By using Just Index Cards, you may find that you have enough time to finish the important tasks first and can still make it home in time for dinner with your family.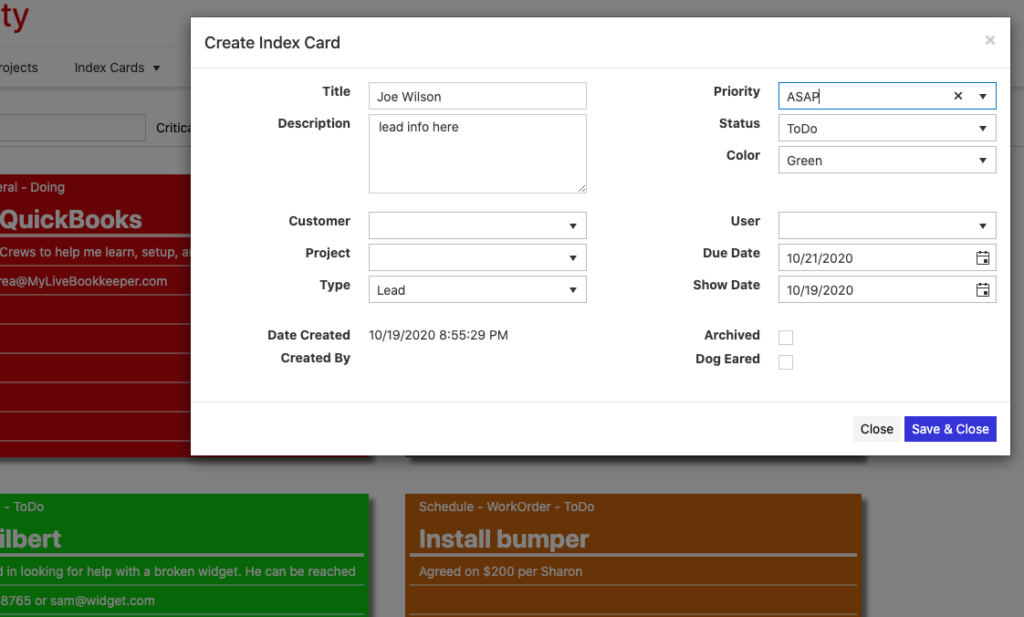 Time is what we want most, but what we use worst.

William Penn
Time Management Made Simple
Just Index Cards is designed with small businesses in mind. Do you have time to learn complicated Customer Relationship Management (CRM) software meant for larger enterprises with sales teams that has features that your business won't be using. There are a limited number of working hours in a day. You need to be efficient and effective by balancing day-to-day operations with activities like sales, finances, community leadership, and family obligations. It is key to have a place to quickly document things as they arise, such as sales leads or business ideas or interactions. Implementing Just Index Cards made especially for business owners like you, can help manage the chaos.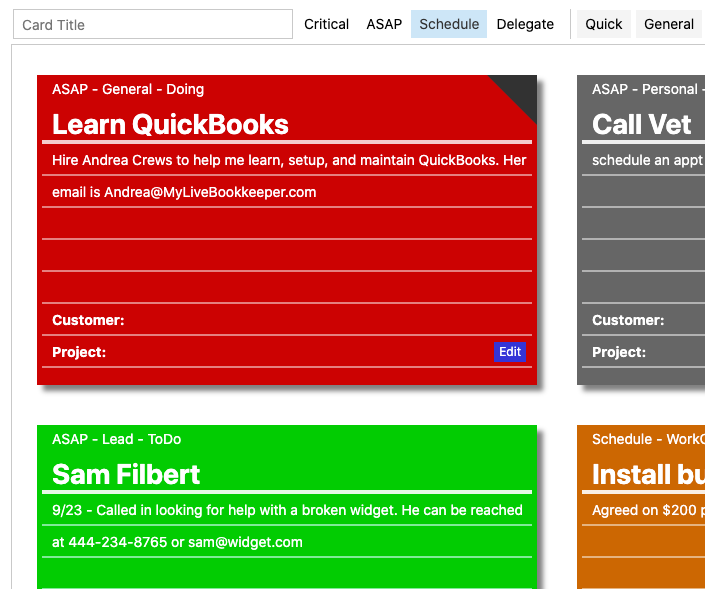 Success
Successful time management includes understanding that your time is valuable and limited, establishing a daily work plan, setting priorities, and choosing to take on single tasks vs. trying to get too many things done at once. With a tool, like Just Index Cards, take charge of your time and improve your business.
What are your common Urgent but Not Important tasks? We'd love to hear what they are and how you minimized or eliminated them.
Does your business use QuickBooks? Tired of finding solutions made for enterprise businesses? Start a free JIC trial or view a JIC demo